Bifacials, the future of solar PV
Current Industry Snapshot
Even if bifacial technology has been present for as long as the monofacial technologies, bifacial solar modules have started to attract a lot of market attention in recent years due to higher efficiencies and lower levelized costs of electricity (LCOE). According to a report by Wood Mackenzie Power & Renewables, installed capacity grew from only 97 MW globally in 2016 to over 2,600 MW in 2018 and it is expected to reach 20,000 MW in 2024. Recent data by Infolink expects global bifacial demand to reach 12GW in 2020.
The bifacial module market is growing rapidly due to several advantages that have made it competitive. Key characteristics are their design that allows the module to capture sunlight from both sides of the panel increasing the solar generation capacity up to 25% according to ArcVera Renewables depending on factors such as the albedo and the height. Their improved efficiency cell structures, increased durability and longevity has resulted in lower Balance of System (BOS) costs.
In terms of modules, the most classical and mostly used bifacial cell is nPERT, followed by HJT and bifacial PERCþ.
Key players operating in the global bifacial solar market include panels such as Canadian Solar (Biku), Jinko Solar (Swan or N-Type), JA Solar, LONGi (Hi-MO), Risen (HJT), LG (NeON 2), Prism Solar, Yingli (Panda), Lumos Solar (GSX), Silfab (SLG), Sunpreme (GxB), and Trina Solar (DUOMAX) between others.

Bifacial gain (Source: Jinko)
Given the potential of the bifacial technologies, the main question is whether the industry will be able to overcome the same challenges that renewable energy technologies like wind and solar faced in the 2000s: standardization, bifacial system gain simulations and bankability.
How it all started…
The bifacial PV history actually began with the very first solar cell processed at the Bell Labs in 1954. At first, bifaciality was much more expensive than standard module technologies and it was mainly used in the 70s for space applications. It wasn´t until the beginning of this century when the first cost-effective bifacial panels entered the market and around 2012 when it arose industrial interest.
Solar Wind, PVGS, Yingli and bSolar were the first producers of standard p- and n-type bifacial solar cells with low-cost processes. They were followed by more complex units by LG electronics and Sunpreme.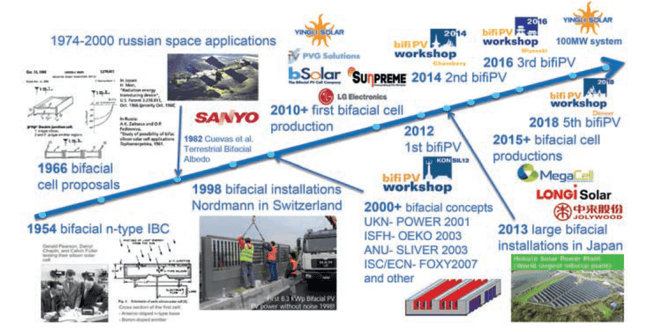 Bifacial History (Source: Bifacial Photovoltaics: technology, applications and economics. IET 2019)
Potential in world regions
Taking into account data from Infolink up to 2019 most exports from China, bifacial largest market, came from emerging markets.
Furthermore, according to this study based on Chinese exports, the geographical distribution of overseas demand for bifacial modules (excluding China and the US) was concentrated in Egypt in the second half of 2018, but it became more widespread in 2019, expanding to countries like the UAE, Mexico, Brazil, Oman, Japan, El Salvador, Chile or Pakistan and the U.K., Denmark and the Netherlands in Europe.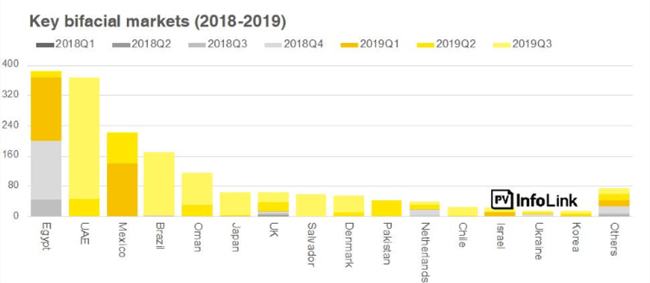 Key bifacial markets in MW (2018-2019) (Source: InfoLink)
In line with the IEEE Journal of Photovoltaics, there are different bifacial gains depending on the regions. These gains are also influenced directly by the albedo, the height and the latitude of the site.
The report on the Global bifacial module market by Woodmac, highlights China as the most developed country in the industry. However, a slower growth rate of 20% is expected due to the new subsidy-free system. Another important market, however irregular, has been the U.S. market due to the on and off exemption of the Section 201 Tariff. This sway was led by the module supply shortage and the high module prices. As of april 2020, the USTR has once again removed the tariff exemption for bifacial modules which raises uncertainty on the country's industry growth.
Additionally, the Middle East, too, is expected to see a significant level of bifacial adoption due to the region's desert terrain and higher albedo.
Northern Europe will also continue to see bifacial adoption due to the region's high latitude that influences directly on its efficiency.
Finally, Australia is also expected to introduce bifacials in their photovoltaic energy mix due to its bifacial-friendly desert terrain and the high electricity tariffs that have driven solar growth.
In accordance with data from both studies, Infolink and the Woodmac report, on a recent webinar, Longi agreed that the countries that were seeing the greatest deployment of power plants with bifacial modules were China, Chile, Mexico and the Middle East.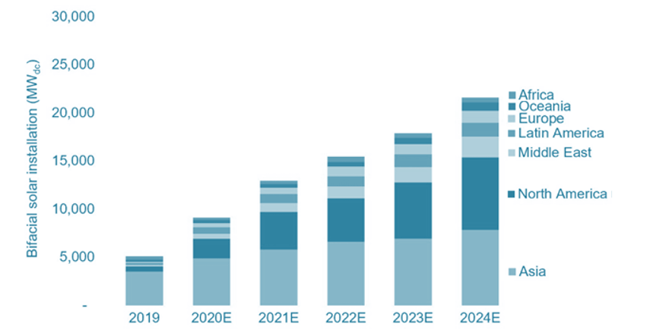 Forecast of Global Annual Installed Bifacial Solar 2019-2024E (Source: Wood Mackenzie Power & Renewables)
LCOE and advantages of bifacial systems
The driving forces behind the growth of bifacials differ from regions, but one unifying factor is the growing affordability of bifacial modules. As outlined by the WoodMac report, the study found out that the production cost differential between bifacial mono PERC and monofacial mono PERC modules are now approximately 0.50$ cents. On another note, based on another study by NREL on LCOE Analysis on various sites in the United States, the report situated real LCOE (USD/MWh) for bifacials to be around 25-45 $/MWh depending on the location of the site, similarly to the LCOE of monofacials. The NREL study comes to the conclusion therefore that currently, LCOE of bifacial systems is competitive with monofacialsystems, even with initial cost added of 5-6 ¢/W.
Other sources such as the White Paper on Bifacial Modules by Burns & McDonnell state that LCOE analysis for bifacial modules is still in its early stages, with the development of uniform measurement standards still in process. However, the improved production and performance over the systems' lives due to the energy gains and improved durability of bifacial PV systems, is a major step forward toward the ultimate goal of a lower LCOE.
Additionally, according to BNEF, 80% of industry experts believe that the technology is now bancable. As Dana Albella from Longi Solar stated in a Energyear webinar, "Bifacial technology not only is bancable, but is a technology that has arrived to stay"
Outlook
Various sources report that the bifacial market has been growing beyond expectations in the last couple of years and forecasts ought to be remarkable.
The global bifacial solar installations are estimated to reach in 2024 to 20 GW increasing significantly the size of the bifacial market to date. Accordingly, looking at bifacial module shipments of the top module manufacturers, Solargiga, Longi, JA Solar, Trina, Jinko, and Canadian Solar, total bifacial module shipments in 2018 reached 5 GW exceeding WoodMac predictions of 2.6 GW in the same year.
In terms of market share, according to the International Roadmap of Photovoltaic (ITRPV), bifacial technology implementation is expected to grow from 12% in 2019 to nearly 60% of total global installations by 2029.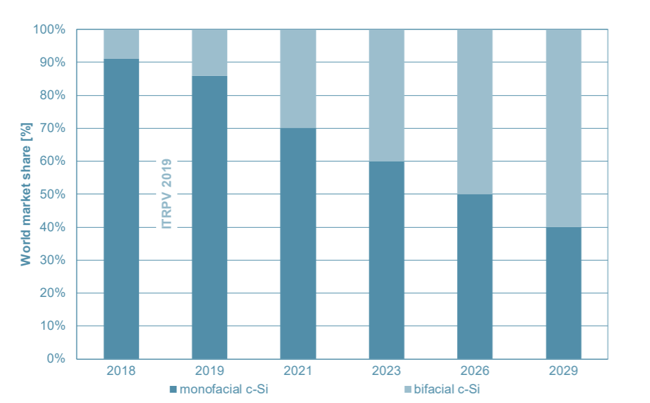 Bifacial technology forecast market share (Source: IRTV Maturity Report 2019)
In words of Scott Stephens, Director of Technology Development at Clearway Energy, "Although bifacial technology may cost $0.05/W more to install than a monofacial PV system, a conservative 10% bifacial gain easily outweighs the risk"