Keeping track of the boom of solar tenders these days - latest news by country
It is clear that we are living a renewable development boom. This growth has been intensified due to the COVID-19, which has raised awareness of the environmental impact of modern economic activity.
Governments from Europe to China and the Americas have identified renewable energy as an area for investment that will serve to create new skilled jobs, increase the availability of power generation in communities and reduce carbon emissions from the electricity industry.
Renewables will be, and already are, the motor of the economic recovery.
In numbers, according to a new analysis from Wood Mackenzie, in Europe there exists a 45 GW of renewable energy capacity in the 2021 auction pipeline. Of those, at least 6 GW would be allocated to solar energy, 17GW of wind and the remainder either technology-neutral or applying to several sources.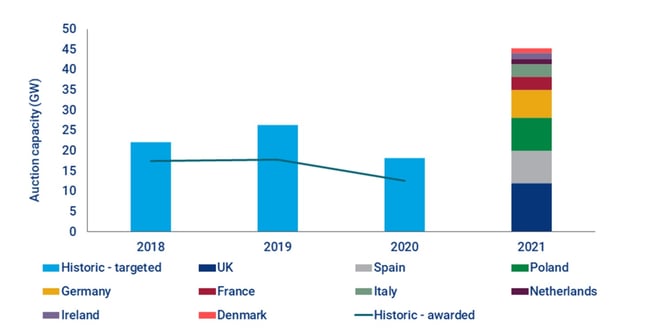 Renewable Power auction capacity in Europe, 2018 to 2021 (Source: Wood and Mackenzie)
Let's take a closer look at past and future solar tenders and their conditions by country.
Recently awarded auctions
Spain
3 GW renewables auction on January 2021. The Spanish government planned to allocate 1 GW of Solar PV, 1 GW of wind and another gigawatt of renewable energy capacity with storage. In the end, a total of 2,036 MW was awarded to solar photovoltaic (PV) in the first renewable energy auction held since July 2017. Overall, the auction had attracted offers worth 9,700 MW. The weighted average price for solar PV reached EUR 24.47 (USD 29.67) per MWh. The lowest price for solar, EUR 14.89/MWh, was submitted by Spanish energy group Ignis for a 30 MW project.
India
December 2020, 6.4 GW of grid-connected solar power capacity. Adani Green Energy has secured 3GW of PV capacity in a 6.4GW solar auction in the Indian state of Andhra Pradesh that saw higher tariffs than other recent tenders in the country. Shirdi Sai Electricals followed with 2.2GW allocated.
United States
March 2020, New York allocates 1 GW of solar as renewables auction. In total, the New York Energy Research and Development Authority (NYSERDA) allocated 21 large scale solar, wind and energy storage projects across upstate New York, for 1,278 MW of new capacity. Of the total, 17 projects and 83% of total capacity were for solar technologies.
The weighted average award price for the solicitation reached USD 18.59/MWh of production over the 20-year term of the awarded contracts.
UAE
April 2020, Abu Dhabi 1.5 GW tender. The successful bidder was a consortium formed by French electric utility company EDF and Chinese PV company Jinko Power. The EDF–Jinko consortium submitted a weighted levelized electricity tariff of USD 0.008732/kWh, the record lowest of the time (28th April 2020).
Estonia
March 2020, the government commits to procure 5 GW of renewables. From a total 16.3 GW offered by 17 bidders, Estonia's Ministry of Economic Affairs and Communications has committed to procuring 5 GW of renewables in the country's first energy auction. The weighted average solar electricity bid price was EUR 75.55/MWh, the government said, with the lowest bids slightly under EUR 60.
Ireland
August 2020, Nation's first clean energy tender. Ireland climate action plan envisages 1.5 GW of solar by 2030. The first auction exceeded expectations reaching a capacity factor of approximately 15% instead of the anticipated 11% with an average solar electricity price of EUR 72.92/MWh
Myanmar
May 2020, Myanmar's 1 GW solar tender concludes with lowest bid of USD 0.0348/kWh. The country's Ministry of Electricity and Energy allocated all tendered solar capacity in its first procurement exercise for large-scale PV. Final prices ranged from $0.0348 to $0.051 per kWh. China Machinery Engineering and Sungrow were the main winners, securing eight and nine projects, respectively.
Germany
February 2020, 493 MW of solar PV allocated in the latest procurement round. As usual, the solar tender was significantly oversubscribed, luring 98 proposals of 493 MW in total, against a target of 100 MW. The awarded capacity was 100.55 MW, coming from 18 projects. The bid price ranged between EUR 0.0355/kWh and EUR 0.0521/kWh.
Israel
January 2020, 609 MW awarded in 2nd solar-plus-storage tender. The 33 successful proposals were submitted by seven developers where the Israel based Doral Group and SolGreen secured the largest lots. The tender set up a final tariff of ILS 0.1745 (USD 0.0544/EUR 0.0443) per kWh
Japan
November 2020, 369 MW of solar awarded under 6th Solar Auction. The Japanese Ministry of Economy, Trade and Industry (METI) has selected 368.8 MW solar power capacity under the country's 6th solar auction wherein it sought proposals from projects with power generation capacity of 250 kW and above.
Under the call, METI wanted to procure 750 MW in total, received bids of 526.5 MW and awarded only 368.8 MW after all, selecting 254 as successful bids.
Portugal
August 2020, the second solar energy auction procured 700 MW. Portugal's first solar auction, allocated1.15 GW of solar generation capacity – less than the 1.4 GW originally planned despite the exercise being oversubscribed.
The country's second auction procured 700 MW procurement and awarded 670MW with the world record lowest bid of EUR 0.0112/kWh (USD 0.0132) of the time.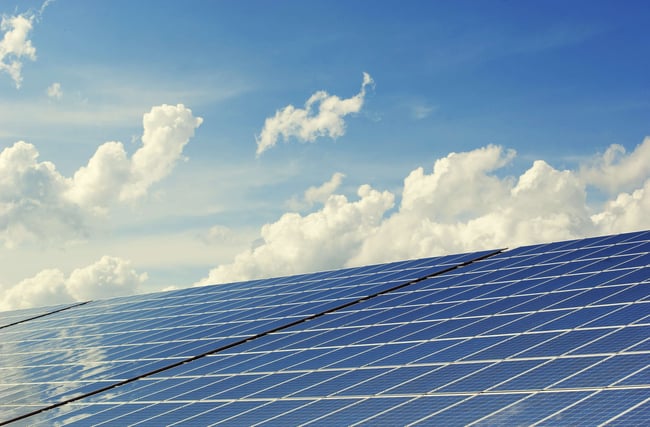 Recently announced a
uctions
United Kingdom
Late 2021, 4th allocation round targets 12GW of renewable energy capacity. The UK is targeting 12 GW from the fourth allocation round of its Contract for Difference (CfD) scheme. The round will include three technology pots with onshore wind and solar PV being readmitted to the scheme. The fourth round aims to increase the capacity of renewable energy from the 5.8 GW achieved in the last round in 2019 to up to 12 GW.
Poland
Late 2021, government to tender 2.2 GW of solar. Poland could award almost 2.2 GW of new renewable energy capacity in the planned auction rounds next year, the Ministry of Climate estimates.
Italy
2021, 7 bidding rounds will be held with approximately 4.8GW of renewable energy capacity. In the first procurement round, only one 5 MW solar plant was allocated with a bid price of EUR 60/MWh. The second auction allocated 19.3 MW of PV capacity across four projects with the lowest price being EUR 56/MWh. The 3rd and most successful auction had assigned 95.5 MW of solar capacity across four locations with a bid price EUR 0.06490/kWh. The last and 4th round of bidding allocated 20 MW of PV at EUR 0.06819/kWh.
Colombia
Q1 2021, planned 5 GW renewables auction.
France
June 2021, 700 MW tender for large-scale PV. 10th tender launched by the CRE for the construction of utility-scale solar PV projects exceeding 500 kW in size. The French authorities expect to allocate 450 MW for ground-mounted PV installations (>5 MW), 180 MW for PV projects (>500 kW and <5 MW), and 70 MW for projects to be built on parking shades.
Hungary
July 2021, tenders to reach 390 GWh of generating capacity per year.
Philippines
Green Energy Tariff Program auction regime to allocate 2 GW of renewable energy generation capacity.
Greece
May 2021, Greece plans to launch a combined tender for up to 350 MW of solar and wind power capacity. Greece's Regulatory Authority for Energy (RAE) has announced that the country will conduct its 3rd joint auction for wind and solar photovoltaics (PV) projects in May 2021. The price ceiling for both categories has been set at EUR 53.86 (USD 66.07) per MWh. The government plan is to launch 2.1GW of wind-solar auction by 2024.
South Africa
March 2021, the government plans to open a tender process to procure up to 2.6 GW of wind and solar power capacity.
Croatia
2021, the Croatian Government announces a 400 MW auction. The procurement exercise will be the country's second attempt to support large-scale solar and wind under the current auction scheme that plans to assign 2.26GW of renewable energy capacity to drive renewable growth in the power mix.
Many of the companies who have been awarded with the auctions seen above have actually designed their projects with pvDesign.
Do you want to be the next? Request a demo