How to Optimize your Solar PV Projects Layout with pvDesign
In RatedPower, our aim has always been to ease and simplify the work of solar PV engineers through the automation of all the different tasks they perform on a daily basis.

Since the start, our goal was for pvDesign's algorithm to focus greatly on certain aspects of the design of a PV plant. These include the automatic positioning of structures, roads, power stations, cables, and so on. Other important aspects are the calculation of cable cross-sections in accordance with different electrical standards, the energy production calculation, the design of the substation, and the generation of all the necessary documents and drawings related to each design.

This algorithm has always been and keeps being in a constant process of evolution. With our latest blog post, we hope to shed light on some of the latest developments that the layout algorithm has experienced and to provide advice on how to optimize your design. So, buckle up and enjoy the ride!!!
Improvements to the Structure Grouping Algorithm
We have centered our attention immensely on the structure grouping algorithm. This implies giving so much importance to how the different blocks of structures connected to a string box or to a power station are defined.

With such a goal in mind, we have implemented a new update to our algorithm that tries to ensure a more regular shape for these blocks while avoiding the creation of any stretched out blocks or any blocks being divided between far areas in the case of complex sites. This also resulted in an improvement to the positioning of these blocks, which are now more centered with respect to the roads, thus saving up on low voltage cables.



Source: pvDesign software
This process used to take an average of approximately 66 seconds with the old version of the algorithm and has now been cut down to 0.6 seconds, lowering the p95 of the complete simulations' duration from 2 minutes to slightly over a minute.

This time reduction makes pvDesign's iterative process even more simple and quick despite the great level of detail that its simulations provide.
Improvement of the Layout Parameters and Optimization
Our team has also added some new layout parameters with which you, our user, can play a bit and see how they affect the final output for the layout. Combining this with pvDesign's quick process of creating different iterations of the same simulation, you can reach an optimal design within a short period of time.

This section should help you understand how these parameters affect the layout for you to get the best use out of them.

Roads
There are currently four road options in pvDesign:

Source: pvDesign software
Horizontal roads: this option draws horizontal roads that end at the power stations.

Horizontal with perimetral roads: this option draws horizontal roads that connect to the perimeter and a perimetral road around each available area.

Vertical roads: this option draws vertical roads that end at the power stations.

Vertical with perimetral roads: this option draws vertical roads that connect to the perimeter and a perimetral road around each available area.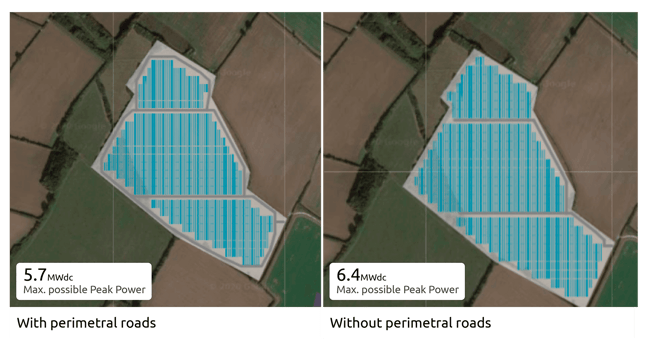 Source: pvDesign software
Based on the needs of your PV plant, you can select one of the above options. The two possibilities without perimetral roads install PV modules all the way till the border of your parcel thus allowing you to install more total capacity.

Perimeter
Here, you can opt between 2 options: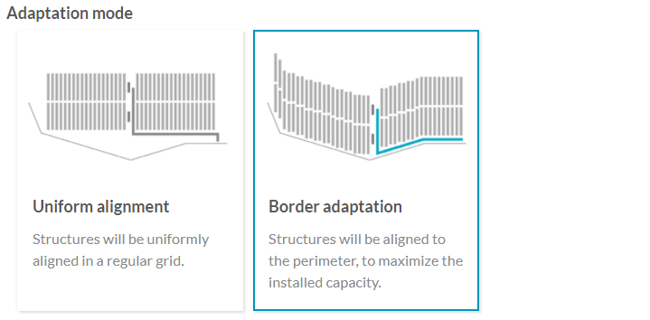 Source: pvDesign software
This parameter gives you the option to decide between a linear uniform positioning of the structures or adapting your structures to the parcel's border, which could help increase its total capacity at the expense of it being more irregular and thus more complex to construct.
Your choice of horizontal or vertical roads will affect this parameter because this border adaptation will only take effect when said roads are parallel to your structures' axes. This would be when vertical roads are used with trackers or when horizontal roads are simulated with fixed structures.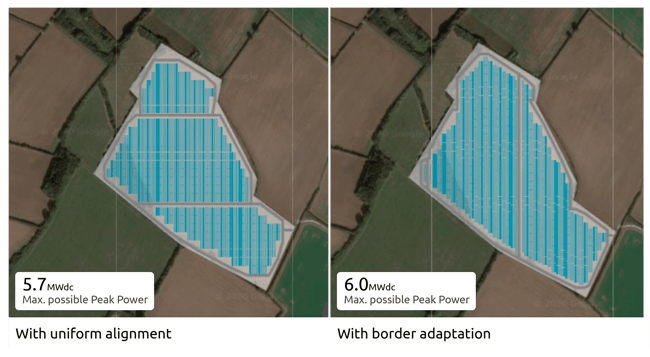 Source: pvDesign software
Power Stations
You can select one of two options for the positioning of your parcel's power stations.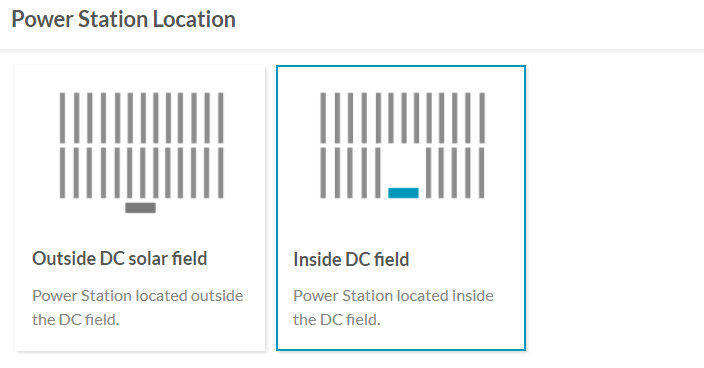 Source: pvDesign software
Placing the power station inside the DC field will take out a structure from the block connected to it but will result in shorter distances between structures and thus more total installed capacity.

Source: pvDesign software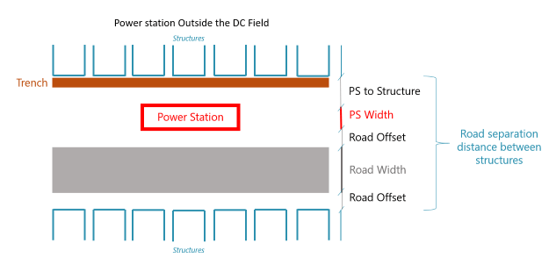 Source: pvDesign software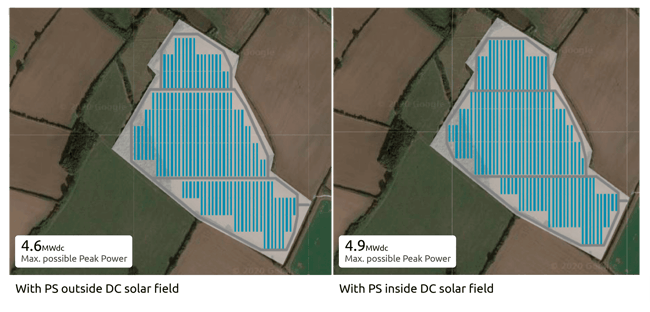 Source: pvDesign software
Structure Position
Here you can opt to rotate or offset your parcel, thus optimizing the layout with respect to the parcel's borders.

You have four options to choose from:

Source: pvDesign software
Layout standard: structures follow their usual axis direction.

Layout rotated: structures are rotated in blocks.

Layout offset: rotates the axis of the block while keeping the structures aligned.

Layout Turning Angle Axis: structures are rotated while keeping the block aligned.
In the case of linked-row trackers, the last two options are not available.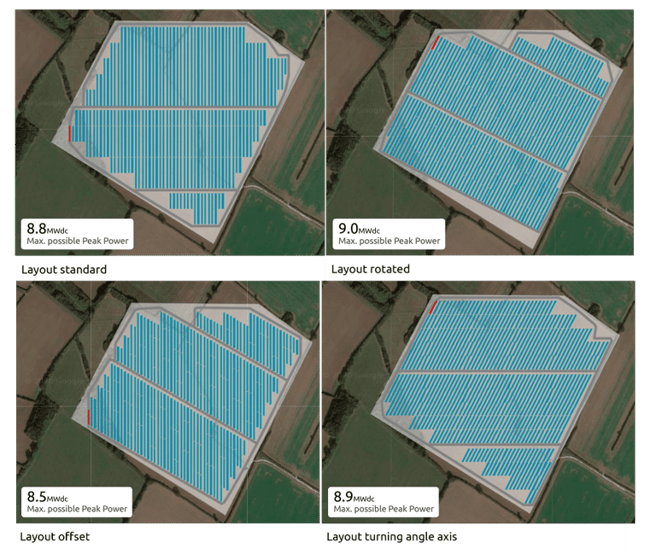 Source: pvDesign software
Layout Configuration
You also have the following options for configuring your layout: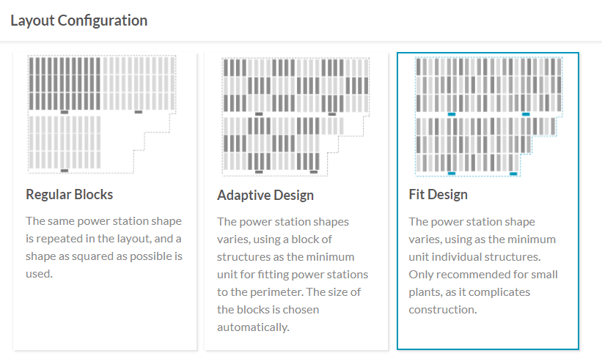 Source: pvDesign software
Regular blocks: this option defines a rectangular block of structures belonging to one power station and repeats it throughout the whole layout.

Adaptive design: this option defines smaller blocks made up of a few structures thus adapting much better to the irregularities of the site and resulting in more total installed capacity.

Fit design: this option is only available for sites of less than 100 ha. It allows you to install individual structures that adapt even better to the border and thus achieves the best possible outcome.
Once all the structures are installed, in the last two options, the Group Grids algorithm groups these small blocks into bigger ones corresponding to the different power stations and then allows for the definition of the low voltage cables.

The size of these blocks can be selected in the table of electrical configurations.

Source: pvDesign software
Ratio DC/AC
The table of electrical configurations allows you to define the Ratio of DC/AC which depends on the PV module, the inverter, and the structure that you have chosen. It also depends on the number of strings per structure, per string box or inverter, and on the respective size of the block of structures.
This table will give you thirty different electrical configurations while taking the above parameters into consideration. You will only have to select one of them. The order in which they are shown takes into account the ideal DC/AC ratio and the number of strings per box that you have previously defined and places the closest ones to them at the top.
The preview tab will show you, in red, the zones or portions where your selected inverter cannot be installed due to the available DC field being too small. In the following image, you can observe how a small change in the DC/AC ratio of an inverter can achieve a much better filling of your PV plant.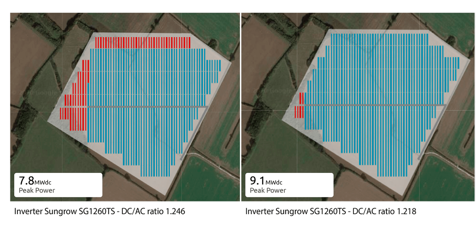 Source: pvDesign software
Using Secondary Inverters
Another option to consider, when trying to fill in those last portions where the chosen inverter cannot fit in, is to utilize a secondary inverter with a smaller size.
This option will allow you to use the same inverter with different DC/AC ratios, thus permitting you to reach more flexible electrical configurations.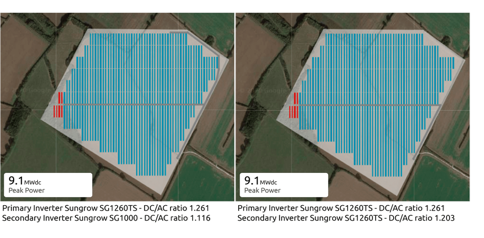 Source: pvDesign software
To optimize your layout and electrical configuration, we recommend you contact our technical support team on support@ratedpower.com and we will be more than happy to help you out.

In RatedPower, we are constantly working on improving our algorithm and layout while introducing new features and more advanced parameters for you to try out. So, tune in for what's yet to come in the next few months!!!