The US Solar market and why its utility scale sector is still on the rise
Solar Importance in the Energy Mix
According to the U.S. Energy Information Administration (EIA), in 2019 renewable energy accounted for about 11% of total U.S. primary energy consumption, 9% of which came from solar, representing 1% of the U.S. total energy consumption. On the generation side, solar energy grew from representing 1.4% of all utility-scale electricity generation in 2018 to 1.8% in 2019. This increment was due to the 15.9% growth of the solar PV generation during 2019. Specifically, utility-scale generation increased by 14.6% and represented 66.3% of the total PV generation, 99% was generated by the electric power sector, of which 90.5% came from IPPs (+12,8% YoY) and 9.5% from electric utilities (+34% YoY).

By state, during 2019 California generated the most (38.2% of the total), followed by North Carolina (10.6%), Nevada (6.8%), Texas and Arizona (6.3%) and Florida (5.6%). The greatest expansion was in California (+1,856 GWh), Florida (+1,520 GWh), North Carolina (+1,182 GWh), Texas (+1,115 GWh), Minnesota (471 GWh) and New York (+353 GWh).
Driving Investment
Developments have been boosted by different programs. The most remarkable is the Investment Tax Credit (ITC), a reduction in the income taxes that companies pay based on the amount of investment in solar property. If construction was to begin during 2020 this reduction would be 26%, 22% if it began in 2021, and 10% permanently after this year for utility projects. Furthermore, it is more than likely that this ITC will be extended, due to the introduction of the 'Moving Forward Act'. According to Wood Mackenzie, if the ITC was to be extended until 2030 at 30%, the United States would install 82 additional GW.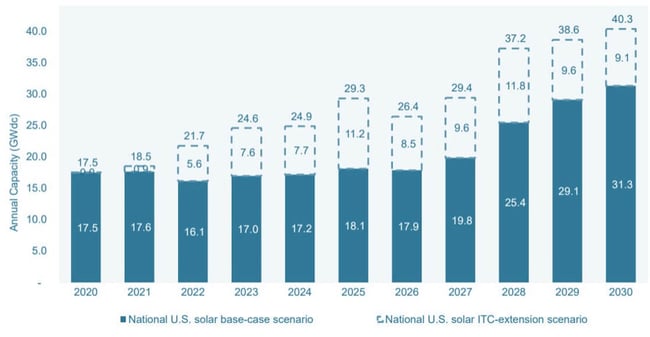 U.S. installations with ITC extension at 30% to 2030 (Source: Wood Mackenzie)
The Renewable Energy Standards (RES) are also important. These standards require, depending on the state, utility companies to source a certain amount of the energy they generate from renewable sources or even incentivize the deployment of particular market segments or energy technologies.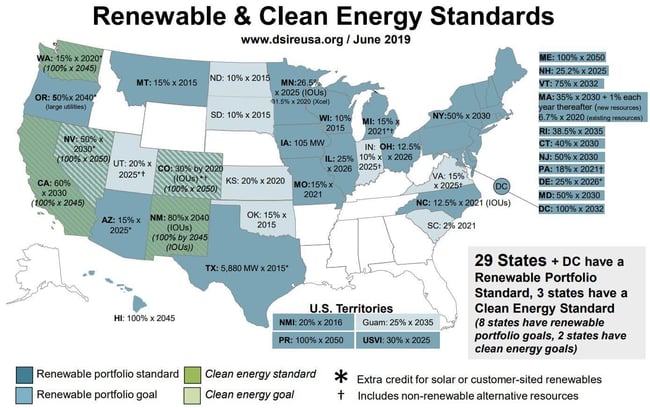 Renewable & Clean Energy Standards (Source: DSIRE, N.C. Clean Energy Technology Center)
Industry Outlook
According to SEIA and Wood Mackenzie "US Solar Market Insight Report" solar PV accounted for nearly 40% of all new electricity-generating capacity additions in 2019, installing 13.3 GW (+23% YoY), 8.4 GW was utility-scale (+37% YoY and 63% of the total PV installed), to reach 77.7 GW of total installed capacity. With PPAs prices ranging from $16 to $35/MWh, the economic competitiveness of solar compared to other generation sources is driving new procurement.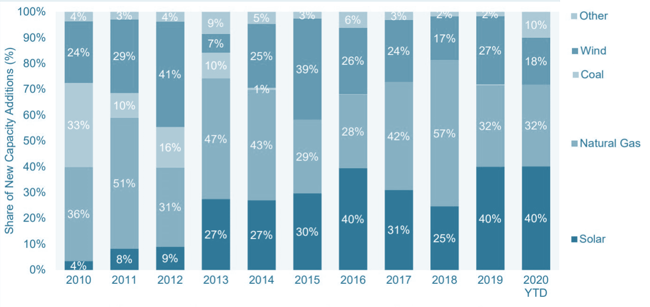 New U.S. Electricty-generating capacity additions 2010-2020 YTD (Source: Wood Mackenzie)
A total of 12.5 GW of utility projects are currently under construction and the development pipeline has reached 51 GW. There have been also announced 64.6 GW (pre-contract).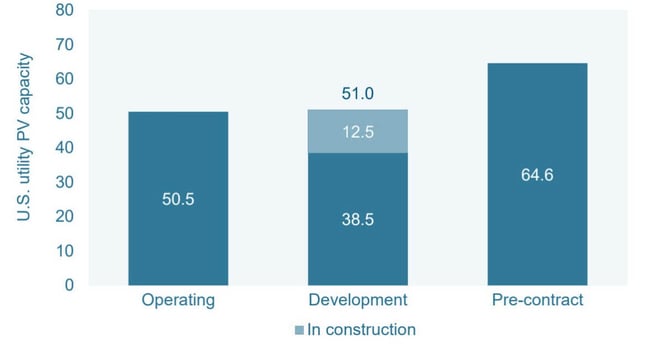 Utility PV contracted Pipeline (Source: Wood Mackenzie)
Wood Mackenzie forecasted a 47% annual growth in 2020, with nearly 20 GW of PV installations expected. Total installed capacity would more than double over the next five years, with annual installations reaching 20.4 GW in 2021. According to "U.S. Solar Market Insight: Q2 2020", the first quarter of 2020 was largely unaffected by the Coronavirus pandemic, setting a new Q1 record, with 3.6 GW being installed, but impacts are expected to appear in the second quarter and forecasts have changed to a 33% annual growth in 2020, with nearly 18 GW of installations expected, corresponding 14.4 GW to the utility segment.

The U.S. utility PV market was poised to see 83.2 GW installed from 2020 to 2025 pre-covid values Nevertheless, although the sector growth expectations have been lowered, experts believe that the ability of the U.S. to adapt and its constant commitment to innovation will position the U.S. solar market at the forefront of the PV sector internationally. An example of this would be the rapid growth in the United States of bifacial installations, a technology that is expected to lead the solar sector, with estimates of 2 GW of bifacial installations in 2020, and bifacial module capacity exceeding 7 GW by 2024.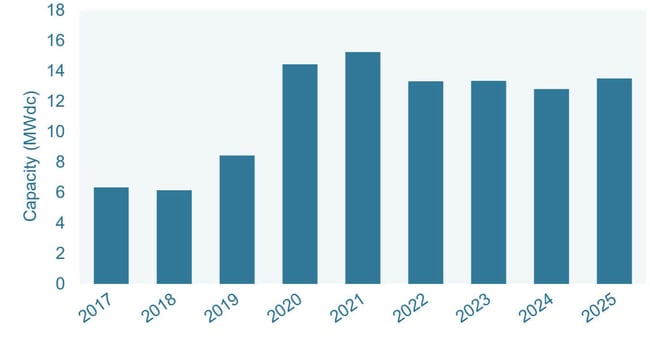 U.S. Utility PV installations and forecasts, 2017 - 2025E (Source: Wood Mackenzie)